SINGLE KITCHENS
Single kitchen and mini kitchen – when space is scarce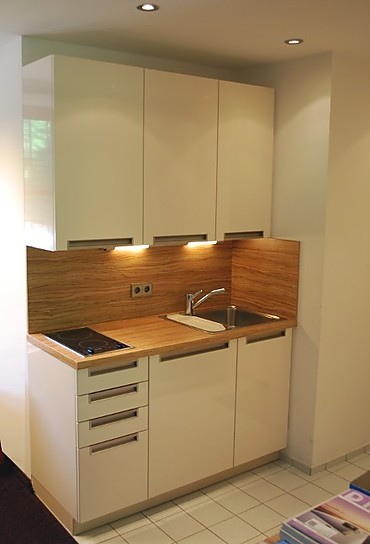 The single kitchen as a compact and simple solution for those living alone. There are also more and more single households in Germany. If you live and cook alone in your apartment most of the time, or are on the road a lot for work, it is not worth planning a large, elaborate fitted kitchen. The single kitchen, sometimes referred to as a mini kitchen, is a practical solution that includes everything you need to cook, cool, rinse, prepare, store and dispose of. However, the single kitchen does not take up too much space in the smaller household and fits perfectly into small apartments or city apartments, where it is often integrated in a kitchenette in the living room. In addition, of course, a smaller kitchen means less cleaning, which means an additional advantage for busy people.
Which single kitchen is right for you?
Learn more about the names single and mini kitchen, planning and details here.
KITCHEN APPLIANCES FOR THE SINGLE KITCHEN
Devices in the single kitchen – what should you watch out for?
In addition to enough storage space, cupboards, pull-outs and shelves, kitchen appliances play a central role. In a room with limited space anyway, finding the right ratio of equipment, storage space and work surface is a particular challenge. Although the single kitchen is a type of planning that remains limited to the essentials, the 6 work zones preparation, cooking / baking, cooling, washing, storing and disposal must still be accommodated. The following kitchen appliances and planning solutions are therefore preferably used in single kitchens.
Hobs with a maximum width of only 60 cm are often used for single kitchens to solve the space problem and enlarge the work surface. However, a device that is only 30 cm wide with only two plates is particularly suitable.
The dishwasher is designed as a smaller, more economical 45 cm single dishwasher or is missing entirely, since often less dishes are used and this can also be washed by hand. In most plans, small sinks are used and the drainer is dispensed with. Alternatively, more space for the work surface can be obtained by a cutting board fitted into the drainer, which can be obtained directly from the manufacturer.
Compact refrigerators with a small freezer compartment are also common in the single kitchen. These can be lower built-in appliances but also a design-oriented, free-standing refrigerator.
Those who work long hours in the evening often also want a time-saving and practical microwave to warm up. Such devices can also be installed in space-saving and ergonomically sensible tall units. Here you can not only find an oven and a dishwasher, but also a microwave combination device or a modern steam cooker that gently prepares or heats the food.
Innovative compact devices are particularly suitable for single kitchens. There are ovens, fully automatic coffee machines and microwaves with a practical height of 45 cm, for example, which can be combined with each other very well and do not consume much storage space when placed in a tall cabinet. Completely new compact dishwashers are also a good solution for a smaller kitchen.
What needs to be considered when planning a kitchen for single kitchens?
STORAGE SPACE IN THE SINGLE KITCHEN
Instead of large, cumbersome individual cupboards, cupboard, wall cupboard or shelving systems can be used for the single kitchen, which act both as storage space and as a design element. These are often attached above the worktop or the sink, making ideal use of the space on the wall. Of course, folding or sliding doors, which can be opened upwards instead of forwards, are an elegant solution for small rooms and are often included in a single kitchen. Alternatively, particularly high wall units are available for more storage space. Either way, you should always keep a minimum distance of 60 cm between the worktop and wall unit, otherwise working can be very uncomfortable.
SPECIFIC PLANNING EXAMPLES
Most single kitchens are planned as here, since a single kitchenette is often the cheapest solution for small rooms.
Some base cabinets with many pull-outs and space for cookware create storage space, with enough space from the worktop there are top or wall cabinets for supplies. The devices are often accommodated in tall cupboards, for example a compact microwave oven or a 45 cm high oven above the fridge, or one above the other. In the second and third picture, tall cabinets at high board height make the whole single kitchen look airy and at the same time serve as a storage space for kitchen utensils and decoration. Dishwashers designed as single dishwashers are also nice to see. In general, the kitchens are very compact, with a base and not with a sled frame or feet planned in order to achieve a calm, tidy and dense impression.
Practical elements such as hangers and shelves can be integrated into the niche design.
The highlight of the first planning example: The single kitchen unit can be hidden behind a sliding glass door attached to a rail. This is particularly practical for single kitchens, which, as is often the case, are integrated into the living room.
In this planning we see a different single kitchen. Work surface, sink center and 2-plate induction hob were housed in a free-standing, hexagonal island. This has pull-outs and cupboards on its sides, and also recesses that can be used as open shelves. The refrigerator and an oven-microwave combination, as well as a crockery cabinet, which offers additional storage space, are located in an extra tall unit. The advantage of this single kitchen idea is the architecturally open, modern and light character. However, this planning does not take up too much space.
MINI KITCHEN
The compact kitchen among the single kitchens: the mini kitchen.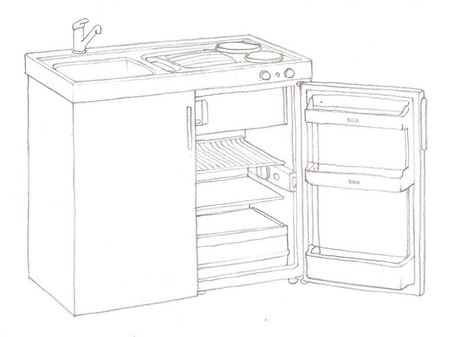 The mini kitchen is even more compact, cubic and practical than the single kitchen. These are individual components, very compact systems that combine storage space and devices with one another in the smallest of spaces.
Basically, all cabinet types and possibilities of normal kitchen planning are available for planning a mini kitchen. However, there are also mini kitchen specialists who have developed extremely space-saving models. These are so compact and practical, in a small, cubic system, contain the essential elements for cooking, cooling and washing up that they almost remind of a play kitchen for children.
As can be seen in this sketch, they look almost like a single base cabinet, which contains, for example, a refrigerator, sink base cabinet and waste center and in the surface of which a sink with drainer and a two-burner hob are integrated. In such a confined space, of course, not many gimmicks and changes are possible if you want to accommodate all important work zones.
But a mini kitchen is available in several sizes, widths and equipment variants and, depending on space and requirements, can be supplemented by more storage space, a dishwasher, a larger hob, an oven or a microwave.
With such a mini kitchen, the important storage space apparently falls by the wayside. A very elegant and frequently used solution to save even more space in the room is a free-standing showcase in which dishes and glasses can be stored. Such a kitchen buffet can also be set up outside the mini kitchen in the living room or hallway.
This not only saves space in the kitchen, but the showcase can also fit very nicely into the spatial concept of the living area and bring your dishes to the fore.
As far as dishes and accessories are concerned, many manufacturers have responded to the mini kitchen trend and offer, for example, silicone baking tins that can be rolled up or folded together. Cookware such as pans are available with a removable handle. This way, too, you can tackle the space problem directly at the base.
DESIGN AND DETAILS
Design and small details complete the single kitchen.
MORE KITCHEN FURNITURE IN SINGLE KITCHEN AND MINI KITCHEN
It makes sense to add a small extension table, counter or counter as a dining area, which can be height-adjustable and used flexibly. This not only brings a space advantage, but can also be used as an ergonomically adaptable work surface. An evening with some guests in your mini kitchen does not have to be canceled, because a counter can be used very well as a standing buffet. A wall-mounted folding table that can be moved out of the way when you don't need it is a practical solution in a single kitchen or mini kitchen.
Since the goal is to design the mini kitchen in a space-saving and practical way, good planning that responds to the conditions of your apartment is essential. With clever combinations and well thought-out arrangements, specialist kitchen dealers will help you, where you can buy the single kitchen. Individually and according to your wishes. However, please note that small cabinets and space-saving solutions always cost more than the conventional large ones.
KITCHEN DESIGN AND ENVIRONMENT DESIGN
In principle, there are no limits to the design of single kitchens. There is a large selection of different fronts, worktops and handles available, as with all other types of planning. However, some styles and designs are not very useful in a small single kitchen. A country house kitchen, for example, cannot work properly in such a small room, and many country-style decor elements are very bulky.
If you want to visually enlarge the room in which the single kitchen is located, there are bright fronts and as many glass surfaces as possible.
Bright and clear colors are required for the walls. In any case, it is advisable to keep small rooms simple and tidy. That means: be economical even with flashy accessories!
KITCHEN MANUFACTURERS AND PRICES
Manufacturers, sources of supply and prices: How to get to the single kitchen
FURTHER SUPPORT IN SINGLE KITCHEN PLANNING
As always, you will receive support from the experienced kitchen professional. Almost every kitchen manufacturer offers single kitchens . The best thing to do is to choose one that provides a wide range of cabinet types. It is an advantage if custom-made products are possible for the selected manufacturer, as this allows the conditions in your premises to be addressed even more individually and space to be used even better if necessary.
There are some specialized manufacturers for mini kitchens. As always, the offer ranges from cheap to upscale and valuable. With the help of the mini kitchen professional, you can individually select the components that are necessary and suitable for you.
All in all, a single kitchen or mini kitchen is always a planning challenge. The room design differs from customer to customer, from apartment to apartment. In apartments it is often a kitchenette that is integrated into the living room, in which the kitchen has to be accommodated, but sometimes also a very small extra room.
The selection of the right cabinet types for your personal ergonomic requirements and the respective room size is extremely important. With the increasing number of single households, more and more solutions for mini kitchens are being developed and the offer is large.
Which kitchen appliances and work centers in the kitchen are urgently needed? Where should the devices be housed and how should they be arranged when space is tight? Which devices are luxury and rather redundant? And last but not least: How do you manage to express your individual touch in kitchen design and environment design?
Taking all of these points into account is much more difficult if you only have limited space and the budget also plays a role.
Hopefully we were able to help you get a first overview of the ideas and opportunities that still exist in this area. Your kitchen studios will be happy to answer any further questions you may have about kitchen planning. Because to an even greater extent than with kitchen planning anyway, professional planning is important!